What Does a #Blogchat Sponsorship Package Include?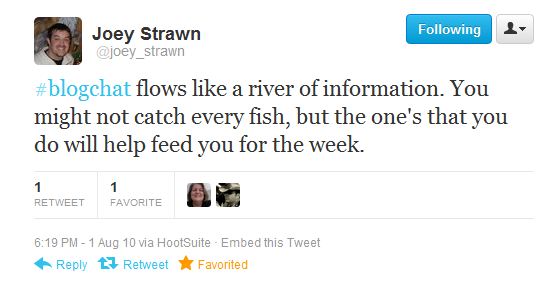 The price for the May sponsorship is $3,000.00, email me if you're interested!  April's sponsorship has been sold.  Discounts are available if you want to secure a 3 or 6-month sponsorship. Each month's sponsorship is available on a first-come, first-served basis, and can be reserved up to 3 months in advance with a deposit.  Email me for details.  Click here for some eye-popping stats on the magnitude of #Blogchat's reach.
"If I think of that in terms of investment, in a matter of 5 hours a month, I received the same amount of qualified leads as I would attending a conference." – Paper.Li's Community Manager Kelly Hungerford on the value Paper.Li received from sponsoring #Blogchat
First, the numbers:
#Blogchat averages generating approximately 20-30 Million impressions a week, and reaches approximately 2-3 Million people.  In 2013, #Blogchat reached over 50 Million people and generated over a BILLION impressions!
Based on an average of 25 Million impressions a week (or 100 Million a month), your CPM for a #Blogchat sponsorship is literally pennies per thousand impressions!
Additionally, I conducted a survey of #blogchat participants in early 2012 and found that 54% said they were NOT active contributors.  Given that the weekly average for active contributors is 400-500, that suggests there are approximately 800-1,000 people actively following and contributing to the #Blogchat hashtag every week.
Finally, perhaps the most interesting finding of my survey was that 27% of the respondents indicated that they had bought an item or service based on the recommendation of a fellow #Blogchat member.
#Blogchat sponsorship packages are available in either monthly, 3 or 6-month blocks, on a first come, first served basis.  Only one #Blogchat sponsorship will be available at a time.
What's Included in a Monthly #Blogchat Sponsorship:
A minimum of 5 tweets a week from the @MackCollier account (currently over 35,000 followers) promoting you as the sponsor of #Blogchat.  At least 3 of these tweets will come on Sunday.
Introduction as Sponsor of #Blogchat within 5 minutes prior to the start of #Blogchat
#Blogchat participants will be encouraged to follow your Twitter account (if you have one) immediately prior to the start of each Sunday's #Blogchat
#Blogchat participants will be encouraged to visit your blog or website (your choice) immediately following each Sunday's #Blogchat (At approximately 9:05 pm Central time)
Sponsor will be given email support (maximum 3 emails responses per week) in order to help them maximize the value they receive from their #Blogchat sponsorship
Sponsor will be given one Sponsored Post here at MackCollier.com per month.  I retain final editorial approval of content, but in general the post will be available to you to either promote your company, its products and services, or your sponsorship of #Blogchat.  Sponsored post will be limited to 750 words.  MackCollier.com's monthly readership is approximately 125,000 readers.
A 200X200 pixel ad promoting you as the sponsor of #Blogchat will be placed near the top of the far right sidebar of MackCollier.com.  This picture can link back to your website or blog, or a particular Social Media account that you want to boost followers/likes of.  This ad will run for the duration of your sponsorship of #Blogchat.
If you would like more information about sponsoring #Blogchat, including pricing, please email me.